Saturday, October 20, 2018 / by Sherry Wheeler
by Judith Harville

The area in West Knoxville commonly referred to as Westmoreland consists of the neighborhood of Old Westmoreland and neighborhoods in close proximity such as Westmoreland Hills, Westmoreland Estates and Westmoreland Court. The orginal Westmoreland or what is referred to as "Old Westmoreland" consists of homes on the main road into the areas of Sherwood Drive and and Stone Mill Road. The homes are older with many built in the early 1900s. The entrance to the east is well know for the old water wheel. This has been a favorite for many local artist to sketch and photograph. The Water Wheel At Westmoreland Heights has been listed in the NATIONAL REGISTER OF HISTORIC PLACES by the United States Department of Interior 1923.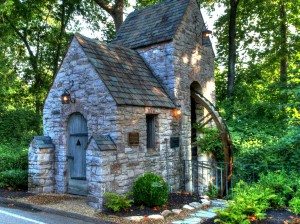 This entire area is very quaint as homesize, style and lot sizes vary greatly. Home prices shift from the $300,000 range to well over $1,000,000. Old Westmoreland has been built out for many years and there are no available lots for new construction. It is a very scenic drive through winding streets and is located on the Dogwood Trail, a popular spot for picturesque drives during the spring blooming season.

Other areas carrying the Westmoreland name are located a few blocks west and have homes built approximately 10-20 years ago, These are much more consistant in style and price. Prices run from mid $400,000 to over $1,000,000. The entire area is located in the Knoxville city limits, are situated east of West Town Mall and are in the 37919 zip code. A beautiful area of Knoxville real estate.